Sept 18 Chicks on the Case … "I'm so OCD"
Oct 12 Writers Who Kill … "A Chat with Becky Clark"
Oct 23 Chicks on the Case … "Crossword Conundrums"
Nov 2 Wicked Cozy Authors … "Reluctant Heroes"
Nov 3 Dru's Book Musings … "A Day in my Life—Quinn Carr"
Nov 5 Jungle Red Writers … "Cozy Quirks"
Nov 13 Mystery Lovers' Kitchen … "Redneck Ravioli AKA Comfort Squares"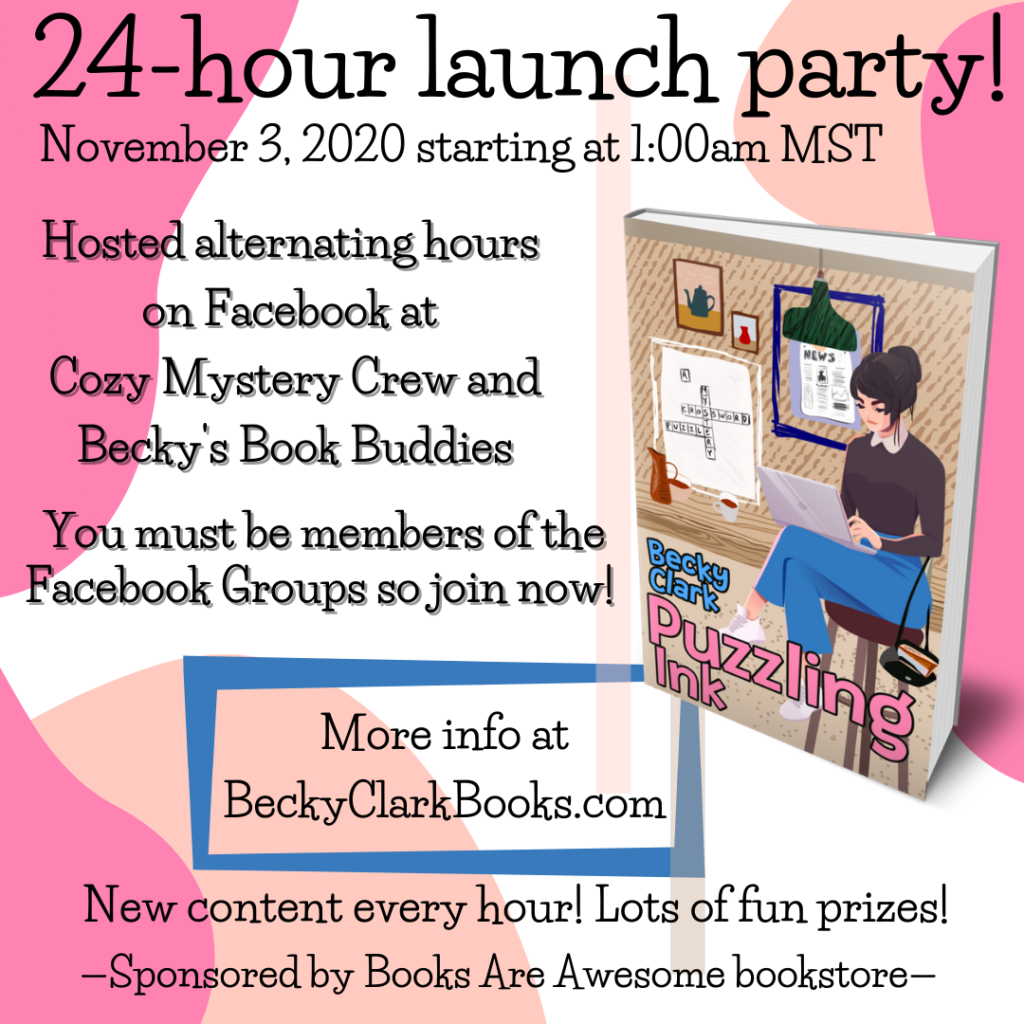 I promised you all the skinny on the Launch Party on November 3rd, so here it is!
It's being hosted in two places on Facebook, but to participate and win cool prizes, you'll need to join COZY MYSTERY CREW by clicking here and answering the question that opens the secret door AND you'll need to join BECKY'S BOOK BUDDIES by clicking here and answering the question that opens that secret door. The benefit of joining my Crew and my Buddies is that there is constant and year-round entertainment in both those places. Remember when Facebook used to be fun? Well, these are two places that hearken back to those halcyon days of yore. Cozy Mystery Crew is a group of twelve of us cozy mystery writers who rotate taking over the page. You'll learn about us, our lives, our pets, and our books and meet some really terrific members of the mystery reading community. And who knows … maybe your new favorite author is over there right now! Becky's Book Buddies is my private group of readers. Again, we have so much fun! It's a gentle, very informal, and playful place to spend some time. With this one book launch, you get SO MUCH MORE!
At 1:00am on launch day, I'll start posting, alternating each hour at the two different places. There will be informative posts, and fun posts, perhaps a couple of silly posts (I know, right??) … but there will be ample opportunities for PRIZES! I haven't chosen all the prizes yet, but I know there will be a lovely chiffon crossword puzzle infinity scarf (I know it's lovely because I bought one for myself and absolutely love it!), copies (digital and print) of Puzzling Ink, at least one purse I've made from an upcycled dictionary, bookmarks, pens, magnets, maybe some custom crossword puzzles for winners … and who knows what else?
Why not a live Facebook event, you ask? Because I don't want anyone getting thrown into Facebook jail for posting too fast or too often. This way you can take a more leisurely approach to the content, and so can I! Plus, as this is the first book of a brand-new series with Kensington, my shiny new publisher, I wanted to do something big, not just one hour of frantic posting and commenting. But I also didn't want to stay up all night—I never even did that in college! If I tried it now, I'm sure I'd end up looking like one of those fainting and/or screaming goats. Thus was born my virtual 24-hour event.
So I really, really, REALLY hope you scoot over to Becky's Book Buddies and Cozy Mystery Crew RIGHT NOW to grab your place for the Puzzling Ink launch on November 3rd!
And look at this added bonus!
If you want a signed print copy of the book (oh my *flips through calendar* … aren't the holidays coming up soon?), if you pre-order it from my local bookstore sponsor BOOKS ARE AWESOME, they are not only offering you a discount, they will ALSO enter you to win EVEN MORE COOL PRIZES! (U.S. only, I'm afraid.) Call them at 303-357-8240 or email them via their form TODAY because this offer goes away on launch day, November 3rd! (In your message to them, be sure to tell them who you'd like me to personalize it to.)
I hope you celebrate with me on November 3rd!