I originally posted this over at Mysteristas, but I wanted it here, too. So if it seems familiar, you're not having a mystical déjà  vu moment. Or are you ….
♦ ♦ ♦
Since I wanted to get your opinion on cozies today, I thought I'd bribe you a bit with pics of Nala, my cozy cuddlebug. (See what I did there?)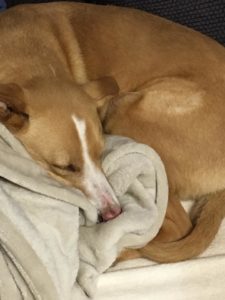 There are a lot of colors in the "Mystery" rainbow: cozies, legal and medical thrillers, police procedurals, suspense, romantic suspense, historicals, private eyes, noir, capers … and more!
And don't forget the subgenres! Just under the "cozy" umbrella there are crafting cozies, cupcake cozies, cat cozies, hobby cozies, etc, etc, etc. There are even some stay-at-home-dad cozies.
Most readers read across the spectrum to some degree, but writers tend to stick with one genre.
I've always told people I write cozies because my definition is that they have an amateur sleuth, are usually funny or light-hearted, not a lot of violence or sex, and usually set in a small town. But I was at a party recently and a friend told me about a controversy she'd been following about readers giving one-star reviews to cozies that don't follow the reader's "rules," whether that's absolutely no cursing, or that cozies must have a recipe, or whatever. They'll turn up their noses and slam the author for "calling their book a cozy when it's clearly a traditional. Harrumph."
Now, I don't mind a well-reasoned negative review (well, I do, but that's a conversation for my therapist) but those arbitrary and angry 1-stars bring down an authors rating, causing all sorts of problems for their career.
And when I stumble across the phrase "traditional mystery," I'm stumped. How is that different from a cozy?
I don't think anyone would argue that Agatha Christie is the Queen of the Traditional Mystery, but look at the Miss Marple books. She ticks all my "cozy" boxes.
But Writing World separates "cozies" and "amateur sleuths" into two distinct genres.
I decided, with FICTION CAN BE MURDER, my new perhaps-cozy-perhaps-traditional-perhaps-amateur-sleuth-but-definitely-not-police-procedural mystery coming out soon, I needed a definitive answer.
So I started asking people, beginning with a Facebook group I recently joined called A Cozy Experience Online Cozy Mystery Book Club. With a name like that, they will know!
I asked them how they defined cozies. Here are some of the insightful answers I got:
I define a cozy as a "soft" mystery with no blood curdling scenes and no cursing in a homey setting where only one or maybe two bullying, egotistical jerks live.
I don't like any cursing in my cozys, nor do I like any sexual activity, implied or otherwise. To me traditional mysteries and cozys are entirely different entities. Cozys the murder occurs quietly off scene, mysteries that's not always the case. I expect a mystery to be a little more graphic but not necessarily as gruesome as a thriller.
Hm, I'm wondering how I'd categorize series like Janet Evanovich's Stephanie Plum series, or Diane Kelly's "Death, Taxes, and…" series, both of which I love and which fit the bill for most of the cozy check points (humor, young single female protagonist, light on gore or violence or criminal psych study, and justice is always served – but both series can be more graphic when it comes to language & sex (neither of which bother me at all).
Mild cursing is fine, eg "gosh darn"or "shoot." And I am all for romance in cozies though nothing too explicit, I'm there for the mystery not the sex. Also I am really really really getting tired of love triangles in cozies. A love triangle is NOT cozy. Sorry for the shouting. [This comment made me laugh!]
I always think of a cozy as a story that happens to have a murder involved but it's really more about the protagonist's life. Also in a cozy mystery the protagonist's hobby or career are as important, if not more important than the murder. I don't mind cursing, especially if it fits the character. And I don't mind the sex if it drives the story.
A cozy mystery takes me to a new place, introduces me to new people, and tosses in a murder or two or three.
A cozy is also supposed to have an amateur detective (a regular person like you or me) as the main character. Some books are called cozies but are really just mysteries or maybe humorous mysteries. I'm not picky though, I read them all.
I enjoy cozies. I do not enjoy graphic violence or really twisted characters which often appear in mysteries other than cozies. I don't want to feel "sick" when I read. Mild cursing is not a problem for me, however, I do sometimes find some cozies "too sweet" and it gets old.
I would say Agatha Christie's Miss Marple stories are almost the ideal cozies. Don't see the violence. Don't see the sex. Figuring out the mystery is done by brain power. Jane didn't have a strong supporting cast which I think is needed in a good cozy series. (There are a couple of series that I enjoy the sleuth's buddies more than the main character.)
To me, a cozy is a relatable character that has a fun job/hobby that is also included in the book "" baker has recipes, crafter has craft projects, etc. I don't mind mild cursing. A traditional mystery to me is one where the character is a policeman or detective. Someone doing a job they normally perform. But they are less approachable, for lack of a better word. Cozy characters draw me in and could be my best friend or myself even. I also think cozies have a good bit of comedy added.
No cursing or swearing…mild violence, nothing gory. Relatable characters, quirky and funny…laugh at themselves. Mild romance, friendships. Also like the series that include crafts, baking, decorating, pets…so many great theme series out there!
Cozy mysteries are fun and the characters are more quirky than in a traditional mystery.
And someone posted this link to an interesting article defining cozy mysteries.
Quite a lot of agreement, except about the profanity, which kind of worries me because I taught my two sailors everything they needed to know when they shipped out. I get one more pass through my manuscript before it's set in stone, so I'll scrub it as clean as makes sense. But what makes sense to me, may not make sense to my readers.
What do you think about my definition of cozies … or the difference between cozy and traditional … or how much cursing is okay in a cozy?