Maybe "easy" isn't quite the right word, but now I can boast that I have a leaf guy, a doggie dermatologist, AND a neurosurgeon on speed dial.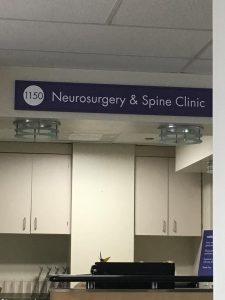 I've been whining for several months about a pain I've been having in my upper back. It started as a knot under my right shoulder blade. I assumed it hung around so long because nobody could reach it—not me or my trainer, chiropractor, or massage therapist. Eventually it moved from there, but still we couldn't pinpoint exactly, nor treat it effectively.
I wasn't particularly worried. The pain stabbed me early in the morning, but always let me sleep. Worst pain was when I had to blow my nose. Luckily that only happened once or twice a day. Exercising didn't hurt, and if I set my timer to remember to move around every hour or so, I was fine. A couple of ibuprofins did the trick to alleviate most of the pain. And I didn't even need to do that every day.
But clearly, something was wrong, since it was hanging around. I went to my doctor who said it sounded like some nerve damage, maybe a pinched nerve. By then the pain would occasionally shoot around my right side, under my arm. We set up appointments for lab work, an ultrasound to check my gallbladder, and an MRI.
Labs and ultrasound completely normal. My MRI was scheduled for 6pm on Friday, January 6, 2017.
Halfway through the MRI a radiologist and nurse magically appeared and they and the technician started acting differently. Their cryptic "noncommunication" spoke louder than any words.
I got home, knowing something was wrong. Before I left the imaging department, they gave me a CD with the MRI on it. My husband and I plugged it into the laptop. Nothing jumped out at us. No neon-colored blob with flashing arrows and aa-oog-ah horns like I expected based on the technician's cryptic warning to call my doctor before noon on Monday if I hadn't heard from anyone.
Within a couple of hours—9pm on a Friday night—a doctor called. She scared the shit outta me by telling me I had a 2.3cm mass pushing on my spine, "probably a benign meningioma" but it "can't wait until Monday."
Ay caramba!
She said she'd talk to the neurosurgeon on call and report back. She called me 30 minutes later, less frantic now. The neuro will call me on Monday to schedule surgery. Because I was walking and talking fine, and not in serious pain, the impressive size of the mass is less worrisome. I could have been growing this thing for years. Apparently, I'm only "urgent" and not "emergent." Pfft.
I checked my calendar. I have stuff to do In January, not the least of which was going to see the Tony award-winning "Fun Home" at the theatre, something I've been looking forward to for two years!
On Monday, January 9, I spoke with the neurosurgeon's nurse who answered my immediate questions and set up an appointment for Friday 13th (which she assured me was the luckiest day).
She said after that appointment they'd schedule surgery within 2 weeks. We discussed the fact that they're not worried about delaying like that, so I decided I wouldn't either.
I felt much more calm after talking to her, finally feeling brave enough to google "spinal meningioma."
Turns out I'm not such a special snowflake after all. Read this and this.
All week I've been back and forth in my head about whether I'll be able to get to the theatre on Sunday the 15th. (Tomorrow for those of you keeping score.) The doctor who called the night of my MRI told me that I need to call 911 if I have "tingling, weakness, numbness, or loss of bladder/bowel control." But that last one is kind of a no-brainer, don't you think?
However, all week long, little by little, like an incoming North Sea tide, I've had a creeping numbness spreading over me. I didn't call 911—surprise—because I knew I was seeing the neurosurgeon at 1:00 on Friday the 13th. Besides, I've been told that's the luckiest day. It's not a numbness that renders me paralyzed or anything. More like I've had novocaine shots all around my torso down my legs to my toes. To see me walk, you might not know I'm doing it a bit goofy, planting my feet very methodically and a bit wider than normal. But just like an inflamed taste bud on your tongue, it seems like it's a thousand times worse than it really is.
But I still packed my hospital Go Bag with all the important stuff—books, Kindle, charger, pens and notebook, comfy clothes for when I'm discharged. I was sure when the neurosurgeon saw me and I described my numbness he'd scramble his staff like so many fighter jets and I'd be whisked across the street to the hospital.
But you know what he said?
"Yeah, your spine's not working so good right now."
Kinda love him.
He's calm and very, very patient. He answered all my questions and told me how many of these operations he's done before. I told him I wished that number was higher. He deadpanned, "I do other stuff too, you know."
He told me to go to the theatre on Sunday. So I will. And I'll enjoy every minute.
I'll spare you all the gory details of the surgery, although I want to remember to ask somebody to take photos for me. Suffice it to say, this tumor is in my upper back, filling the space in my spinal cord between T2 and T3. It's pushing the nerve way off to the side. He'll go in, snip it out, then smooth everything back where it goes, all over the course of three hours. Remarkable, eh?
Surgery isn't technically scheduled yet but I suspect it'll be late next week. I'll be in the hospital about 4 days, depending on my pain (again, ay caramba!), but no bed rest afterward. Up and at 'em, with restrictions like no lifting, no exercise other than walking, and such. Follow ups at 3 and 6 weeks.
I'm writing this on Saturday afternoon January 13th and I'm beginning to find the humor in most every part of this situation.
For instance, in the shower this morning I was irked that the water wasn't getting hot enough and kept nudging it up. Then I remembered. "Oh yeah. I'm numb."
They gave me some special soap to use before I come for my surgery. Because apparently, my homemade lard-and-dill pickle shower gel suddenly isn't good enough.
They told me I'd be able to do light housework. I told them they were wrong.
They told me it might take up to three weeks for the anesthesia to clear from my system and that until it does, I might find I get weepy or angry for no reason. I caught my husband's eye and said, "See? It's been the anesthesia all these years."
I'll be here all week, folks. Don't forget to tip your waitress.
And I got to make one of my favorite stupid jokes. I asked the doctor if I'd be able to play the piano after my surgery. He said of course I could. "Great! Because I couldn't before."
He laughed and all was right with the world.
It's been suggested that Nala can be my service dog while I recover. But in her befuddlement that I was trying to nap the other day—something she's never seen before—she literally jumped on the bed and sat on my head.
I'm thinking her talents are better used elsewhere. Not sure where. Just elsewhere.
While this is major surgery—very delicate and very scary—I don't really have a choice about it. As with all experiences, I'll blog and write about it because that's how I process and remember information. I'll post updates here and on Facebook. I'll also keep trying to find the humor in my situation. Mainly by encouraging my surgeon to do this …
Think he will? What should I tell him to write?